Sorry, couldn't think of another title right now so I went with that.. Plus, I am eating a piece of bread with Nutella on it... and no, you can't have a bite.
OK.. now to stop licking my fingers and decide what to write about... My nosey (lol j/k) family and friends have been asking when I was going to update again.. I am sorry! I have been SO busy. I am down to like, one shower a week now!
I kid...
So.. what have I been soooo busy doing? Well, the usual.. 3 kiddos, a husband and sewing.. sewing and sewing. For those that haven't found me yet I do have another blog that I post my pretty clothes on - Tulah Blog I need to update it though... I made a few new items that are TO DIE FOR gorgeous! They are in my Etsy shop if you wanna take a looksie! tulahclothing.etsy.com
So.. we've all been doing alright. This weather is something crazy though! I want it to be spring SO bad! Doesn't mother nature know I have tons of cute dresses for my girls to wear? Sheesh! How rude! Anyhow.. I put my dog outside to go potty.. oh.. about a week ago and it was SNOWING.. then we had this crazy hail storm. I took a photo to show my mom because I couldn't even believe it! I was minding my own business doing my laundry (for once lol!) and bam-bam-bam (no.. not gunshots.. but I sure thought they were lol!) this hail was dumping down on our roof!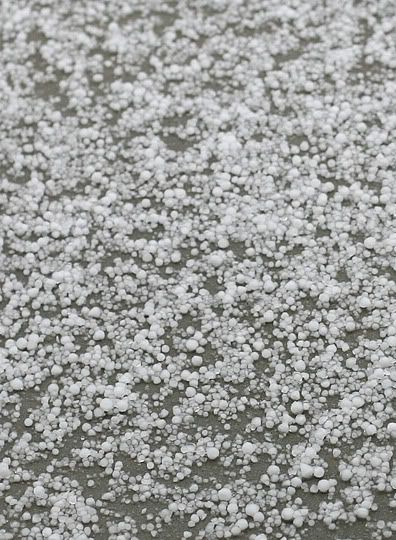 Doesn't that make you wanna go out and grab some flavored syrup and make a snow cone? No? Well.. that makes me the weird one I suppose... Eh. I am use to it.
Thankfully the past couple days has been nice. Today was REALLY nice.. and umm.. my wonderful husband decides he wants to go spray poison all over the place (for weeds.. yeah, I know. I told him to leave my hair alone!) I am like.. ummmm helloooooo.. don't do that! That means I can't have the kids go outside to play so I can have some peace! Sheesh! Weeds-shmeeds! forgetaboutdem! He sprayed anyways (Did I mention he doesn't listen?)... so yeah, it was chaos in here today. I did manage to get an order done though! And wouldn't ya know it.. the weather is saying SNOW coming soon? Yeah.. kill me now.
Easter has come and gone.. we didn't do anything but get sick. That's how we roll around the holidays. Someone is ALWAYS sick! And me? oh yeah.. I am the one that juggles life and I am the one who is always sick the longest! I JUST got over my cold.. a 2 week long cold and I ended up on antibiotics for a sinus infection. Bleh! I still have the snotty tissues on my desk even.. ok.. no I don't.. or maybe I do? Muahaha...
(I don't.)
The kids.. what are their names again? lol j/k. Little monsters.. love 'em!
Autumn has been doing fan-tabulous in school! She is reading at an average-ish high 2nd to 3rd grade level (she is 6). She rather read than play... which is great! My little bookworm! She reads out loud a lot to her siblings... well, as much as she can until Austin kicks Alannah in the arm.. Alannah looks at Autumn weird and Autumn won't show the pictures to Alannah or Austin..... then it's 3 kiddos running down the hallway in stereo "Moooooooooooooooom".. I am like.. um, duh! I changed my name last week.. sorry kiddos.. you didn't get the memo?.. No "mom" person here. *sigh* Did I mention I love 'em?
Alannah... holy heck.. can we say 4 going on 16? Bleh! She has a huge attitude.. totally gets it from her father. (Hi, Ryan!) I am starting to wonder about her. I have never seen such a stubborn child. I have been working with her on writting, etc. with some Hooked on Phonics stuff I bought on sale awhile back. I tried with her once before but she would just cry like I was breaking her arm to get her to write something.. she is doing much better now and excited to start school. She will be going to preschool.. no kindergarten yet as she doesn't make the cut-off.
Austin... ahhh, Austin. He is such a monster but SUCH a mama's boy.. and I love it. Like today, I was walking back to my sewing machine and he was sitting on the couch. He says "sit on couch, mama" with his sweet little baby voice. Umm, heck yes I will sit on the couch! Can't turn away that cuteness! We watched TV for a good hour.. him just sitting on my lap. I love those moments and will be so sad when mama starts being lame. I know, right? How can he ever think someone as cool as me is LAME? Psssh! Silly boy! He is talking so well now too! He can carry a full conversation practically. Oh yeah! His room is done.. well, I need to hang some wall letters and get some artwork but other then that... all done! I will have to post pictures soon! And no, that darn rocket tent is STILL not perfect.. I think it is worse now LOL!
Welp, I guess that is it for tonight. Hoping to get an early start on orders for tomorrow so I can be lazy the rest of the day. I worked it out so I do 2 items a day.. or 3.. depends how easy they are to make.. which is about 4-5 hours of work (give or take.. depends how much I wander away from the sewingmachine lol).. and if I do it in the morning I will be done by the time Ryan goes to work at 2:30.. so it works out.
I will HOPEFULLY start keeping up with this blog again... I still have that little skirt tutorial I was going to do.. dag-nabbit!
See ya!