Leave it to me to help ya ruin your new years resolution diet (don't we all have one.. every.single.year?)
Now.. believe me when I say this is the best.. BEST homemade chocolate chip cookie recipe (That I have tried). I promise! I know my stuff when it comes to cookies.. my butt didn't get this big eating carrots and salad.
First off.. if you do not have a Kitchenaid mixer you NEED one! You can use it for so many things besides baking and you can find them on great deals if you shop around! Plus they look awesome sitting on your kitchen counter. All your friends can walk into your kitchen and just think you know how to cook if you own one of these! lol! But.. if you do not have one (yet.. lol) then a hand mixer will do!
Alright.. lets get that butt just a bit more wider now..
You will need..
-- 2 sticks softened butter (1 cup).. BUTTER, people.. not margarine.. or regular butter in a tub.. you need real unsalted butter. (It makes a HUGE difference!) Room temperature is best.
-- 1/2 cup white sugar
-- 1 1/2 cups brown sugar, packed.
-- 2 eggs
--2 tsp pure vanilla extract
-- 3 cups flour
-- 1 tsp baking soda
-- 2 tsp hot water
-- 1/2 tsp salt
-- 2 cups semi sweet choc. chips. (1 regular sized bag)
-- 1 cup walnuts (I didn't add these)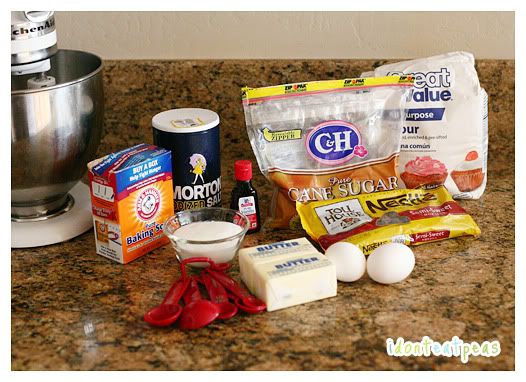 First, cream together the butter and sugars.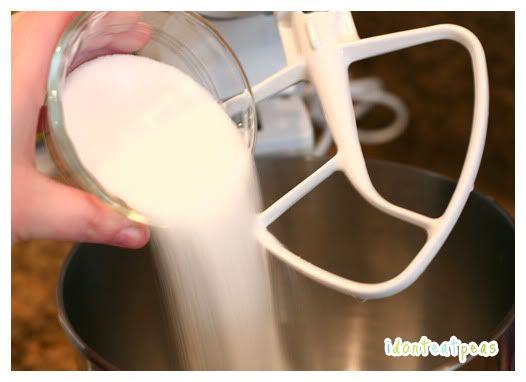 Here is our butter and sugars.. waiting to become a cookie masterpiece!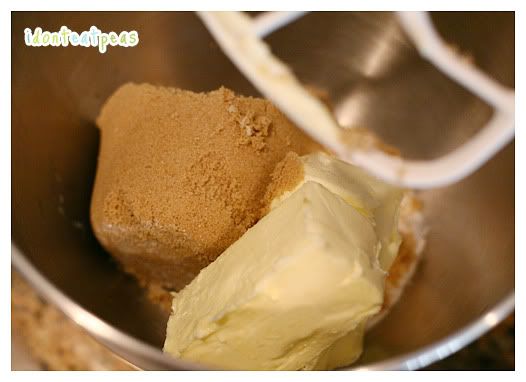 Start mixing!
It won't get super creamy or anything.. but creamy like peanut butter thickness. Just looking at it makes my mouth water... maybe I should go grab a cookie before I finish this post? LOL!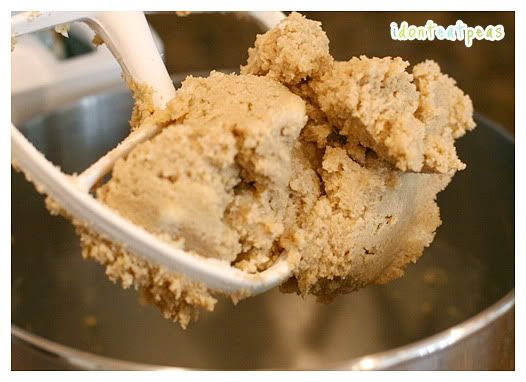 Once your sugars and butter are creamy mix in the eggs one at a time.
Set your mixer on stir (or low if using handheld) and add vanilla.
You will then get the hot water in a little dish and dissolve the baking soda in the water. I usually swish it around a little in the dish and dump in the dough. It will look really cloudy.. like this..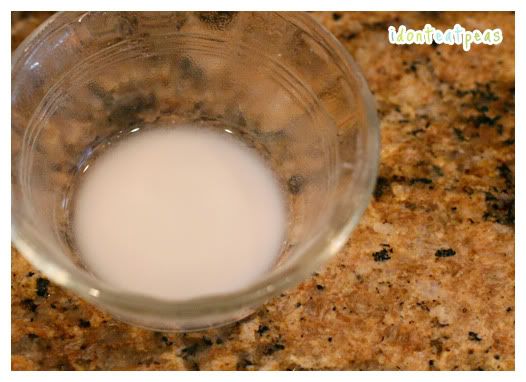 Pour that into the dough.. and then the salt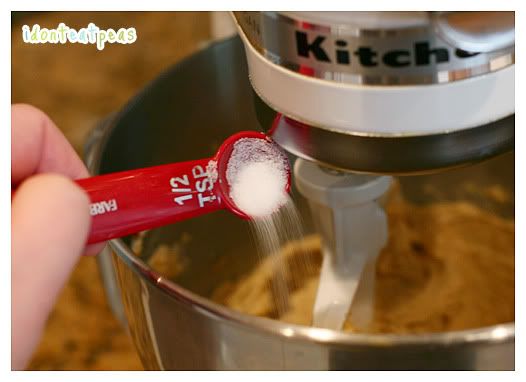 Then stir in your flour one cup at a time.. HINT - Do your cookies usually come out kind of cakey? Maybe too floury tasting? Try this. Use a level 1c. measuring cup. Dump out your flour in a bowl and then use a spoon to gently scoop your flour into the measuring cup. DO NOT pack it in. Then gently level off with a spatula or knife.... or your finger.. preferably a clean one! :)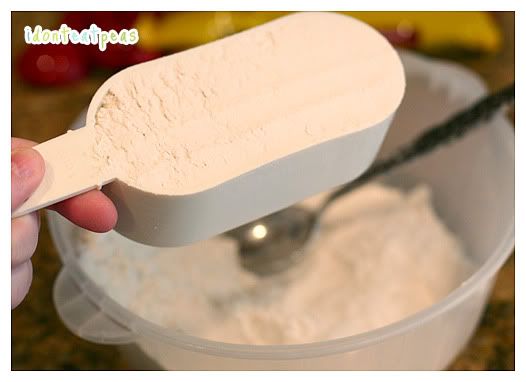 Once your flour is stirred into the dough well.. dump in your chocolate chips and nuts (if you want nuts).. 'sometimes you feel like a nut.. sometimes you don't..... your cookies might have nuts... mine don't'... Yes, I just made that up.. just for you! No autographs, please.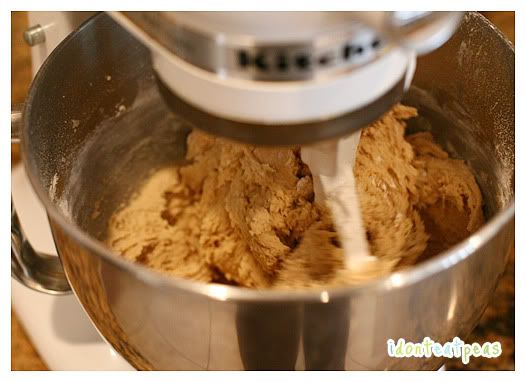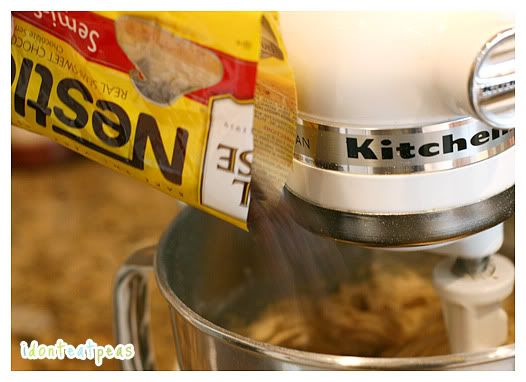 And there we have it folks! Get a spoon and dive on it!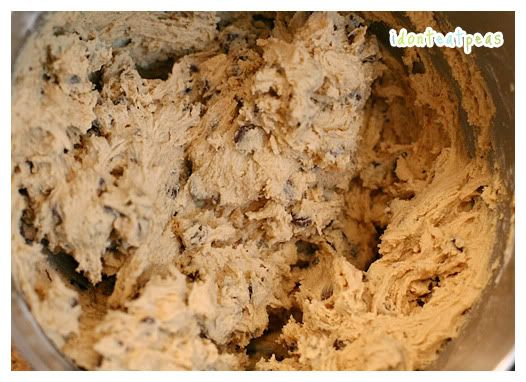 Or.. you can chill it for 2 hours before baking.
YES.. you really do need to chill it.. just do it.. for me. :) It will help your cookies be bigger and not all flat.
Now.. with the chilled dough.. however much is left anyways.. lol. (I always have a few tastes of my dough.. this dough is gooooood!) roll them in large balls.. about walnut sized.. or larger. Or.. you can just dump clumps of dough on your cookie sheets.. which is what I do.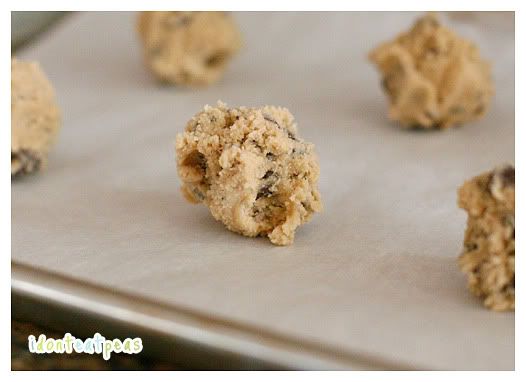 COOKIE SHEETS.. ooooh do not get me started! One of the best things I ever did was discover Chicago Metallic cookie sheets and parchment paper. Those two things combined with baking cookies make the most PERFECTLY evenly cooked cookies. Line the pans with parchment paper.. seriously, you should never, ever try baking a cookie without parchment paper!
And yes, it's upside down.. so what!?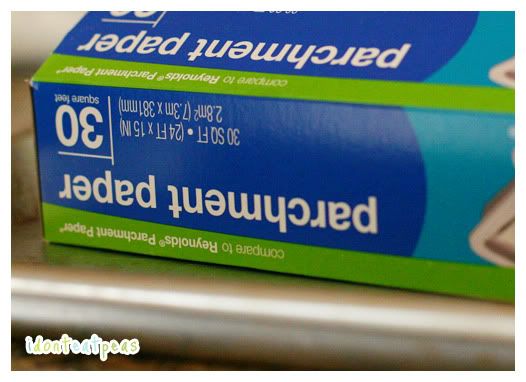 Pre-heat your oven to 350 degrees. Pre-heating is very important. My over lets me know when it has reached the set temperature.. if your oven isen't as cool as mine then just about 15 minutes should do the trick. (My oven actually isen't very cool.. I want a whole new stove, etc... someday!)
Pop your cookies into your pre-heated over for 10-13 minutes. It is so important that you take these cookies out at the right time. The middle will almost not look quite done and the edges should be a golden brown (if you want chewy on the inside and crispy on the outside).
Just a peek.. are you excited?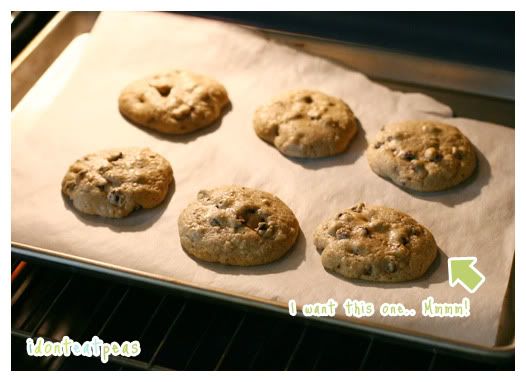 Are they done? Mmm.. let them cool for a few and then grab some milk (or hot cocoa like I plan on doing) and eat up!... or.. send them to your hubbys work for everyone else to get fat off of.. because.. afterall, you ARE on that new years resolution diet, right? *wink*. I behaved.. ate 3 and packed up the rest. I am pretending they are not just sitting on teh kitchen counter..... must.stay.stroooong.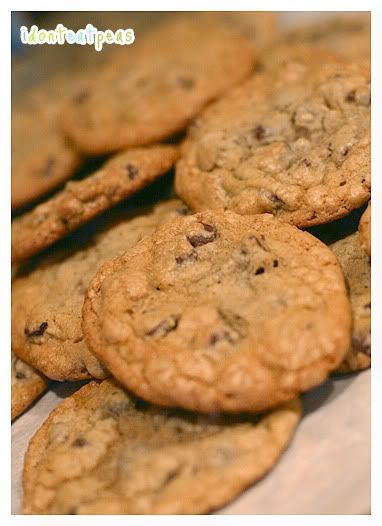 And yes, Photobucket.. I would LOVE a shirt like this! (showing the bottom of a cookie)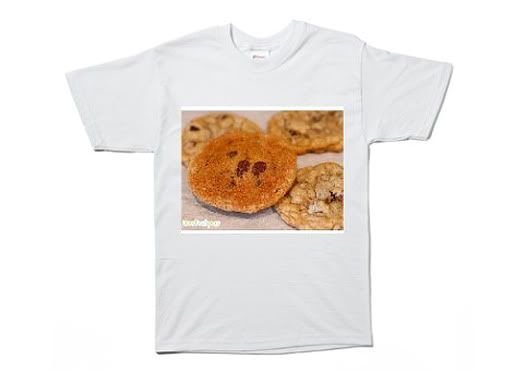 Thanks for stopping by my blog! I hope you keep on coming back! I will share everything from recipes to crafts.. photography tips and photoshop tutorials and more!