I found this recipe about 2 years ago.. now it shows it's lovely face at any party I have.. or go to. It's SUPER easy and yummy.. at least from what I hear.. cream cheese scares me so I don't eat it. I don't really eat anything that looks weird... LOL!
So... you will need...
Two 8oz packages of cream cheese
2 cups cheddar cheese (finely grated).. I also mixed my cheese because I ran out of cheddar.
One 1oz package of powdered ranch dip mix.. you can use the spicy ranch instead for a yummy spicey taste!
1 small package of almonds.. or pecans... or roll it in cheddar cheese.
That's it!
Dump the cream cheese and ranch mix into a bowl.. the whole package might be a bit too much for some people.. so I use about 3/4 of it..
Don't ask.. LOL!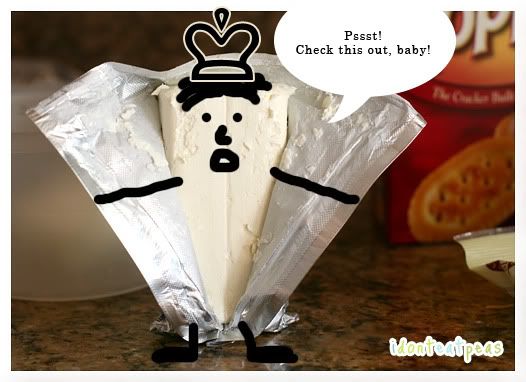 Yes.. my cream cheese is flashing you.. and wearing a crown.
.
.
.
I saaaaid.. DON'T ASK! lol
Forget using a fork to mix this up.. yeah... riiight. I even let my cream cheese sit out for a bit to soften up and I still need to show it who is boss by mixing it with my hands.
I just mix it a little bit.. then add my cheese.
mix.. mix.. mix...
.
.
.
.
.
And fling some onto your cabinets.. doh! Hmm.. did I ever clean that up?
And then shape into a large ball.. or two small balls.. or meatball personal sized balls.. balls, balls, balls.. we love cheese balls!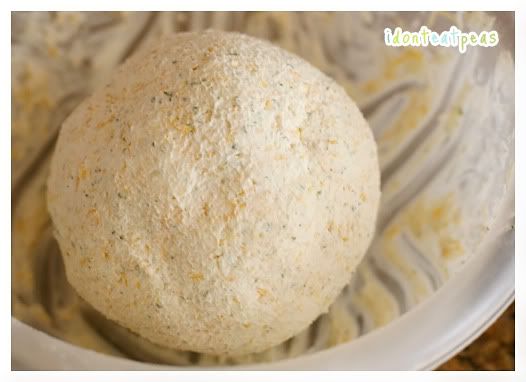 Dump your nuts out onto a plate and roll your ball.. or balls.. in the nuts.. (why I am laughing right now? LMAO)
And there ya have it! A cheese ball!
Now.. just a little hint.. make it the day before your party. It's best for all the ingredients to 'mingle' for awhile.. Then.. get your favorite crackers and dig in!
Thanks for stopping by!