In the process of getting things ready for Austin's party I thought I would take time do take photos and share with you all. (crappy photos because my kitchen is sooo dang dark! Plus it's a little cloudy)
Today I made the stars and wires for Austin's cake.
Normally.. you may want to use gumpaste because it hardens nicely.. but.. I used fondant to make it easier on me since I need fondant for other things and I am trying to cut things off my 'to-do' list that keeps growing.
So.. let's make the fondant! (a small batch) No! Don't say 'Ewwww. fondant!" Marshmallow fondant is sooo much better then that pre-made dirty shoe sole tasting crud!
You will need mini marshmallows, powdered sugar and water. Simple enough, right? Depending on what you're doing with the fondant you may want embossing sticks, cutters, etc.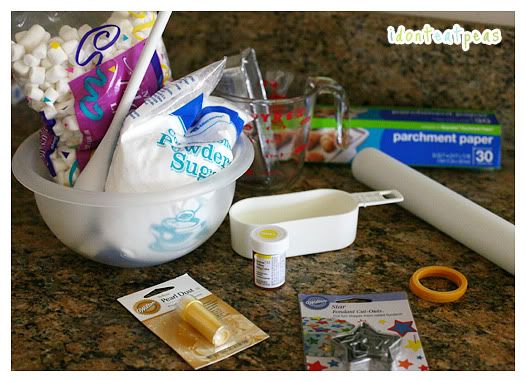 Cram marshmallows into 1c. You will want to really squish them in there. When I am pressing down on the marhmallows this is 1 even cup.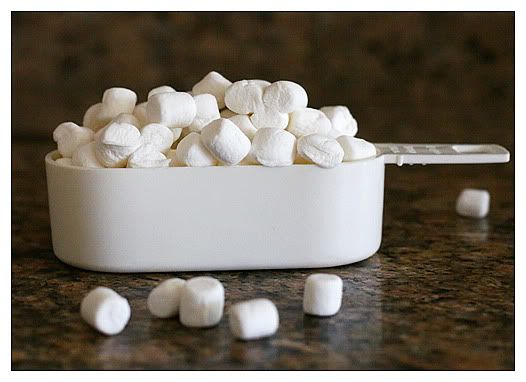 Dump them into a microwavable bowl and add your 1 TBS water. Microwave for about 20 seconds.. adding 5 if needed. It should look kinda puffy like this..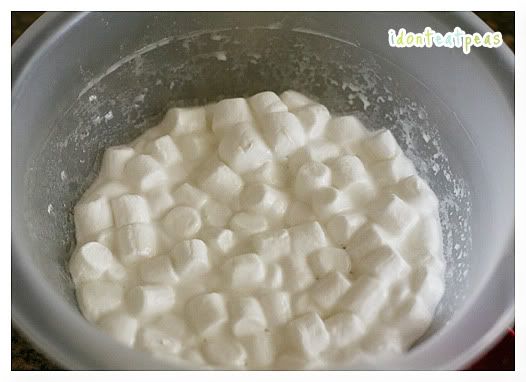 Now comes the PITA part lol. You need to mix in 1 and 3/4 cup of powdered sugar. I found that coating a plastic spoon with crisco really helps. Do not use a lot.. a little goes a long way!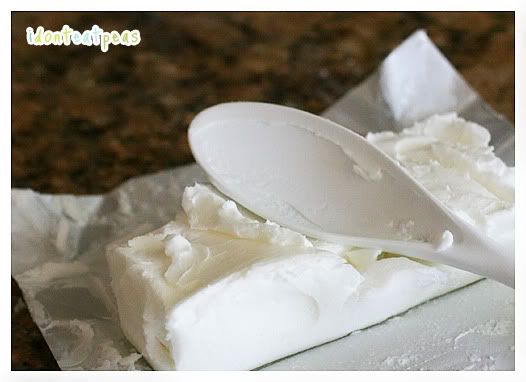 Start mixing.. don't panic... it WILL be just fine.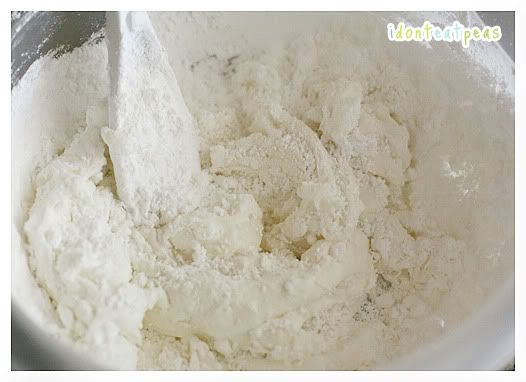 When you finally have one large ball of what will soon be fondant.. take it out and lay it on top of some parchment paper lined with Crisco and a little powdered sugar.. time to knead it!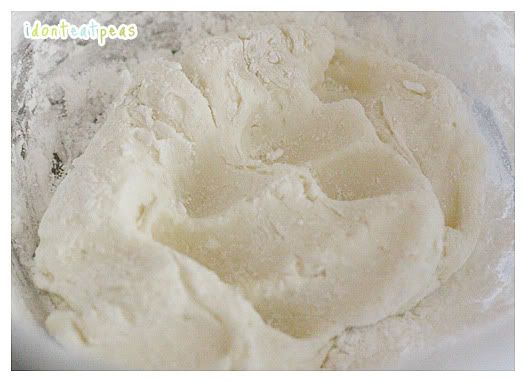 (you can use a dusting bag.. I just sprinkle some on)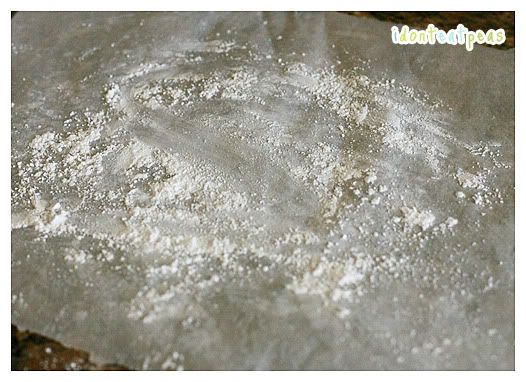 Rub some Crisco on your hands and inbetween your fingers... trust me.. you will be glad you did! This stuff gets super sticky! Again.. a little goes a long way.. we don't need you bathing yourself in Crisco up to your armpits.
Knead, knead, knead... and knead some more.. voila! FONDANT!
*Do you not have fondant? Is it too thick and lumpy.. dry and when you go to strech it it breaks? Add a little water and microwave for about 5-10 seconds.
Is it too runny and sticky? Simple solution.. add a little more sugar!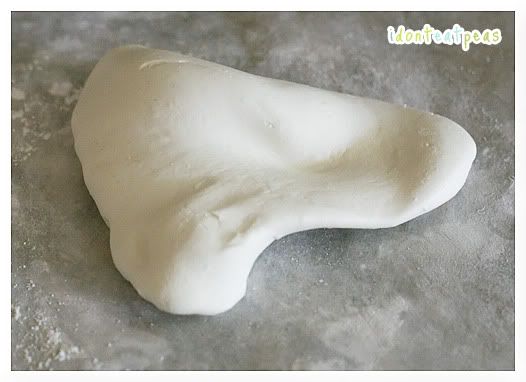 Let's color it.. I want to make yellow stars.. so.. I will color it purple.
Ummm.. no.. I will color it yellow.
Perfecto! Now.. remember that with those coloring gels.. a little goes a very long way!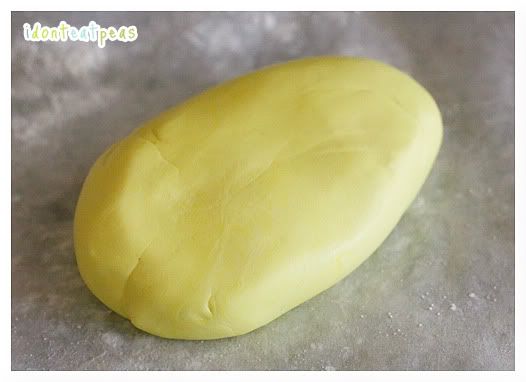 To roll it out I use 2 sheets of parchment paper covered (lightly) in Crisco.
Ah.. you likey my cool rolling pin? It's GREAT! Made by Wilton and it has different sized guides you can use to get even fondant/dough all the way around.
I am doing my stars a little thick so they stay on my wire well.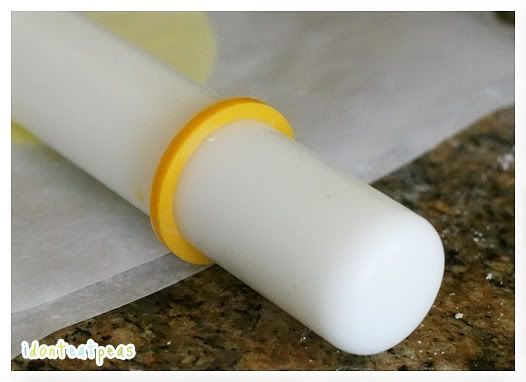 If you managed to screw up (which happens often when first dealing with fondant) you can use a fondant smoothing tool. dust some powder sugar on the fondant and a little on your smoother.. and smoooooth it out!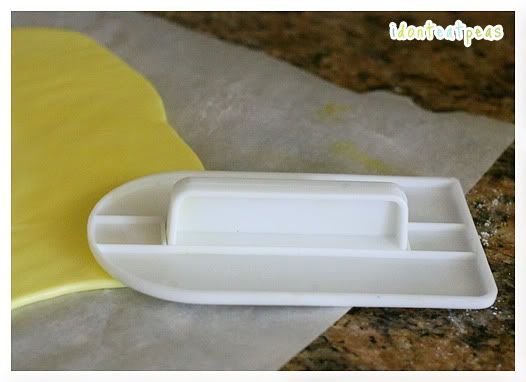 Let's find our star cutter...
hmmm...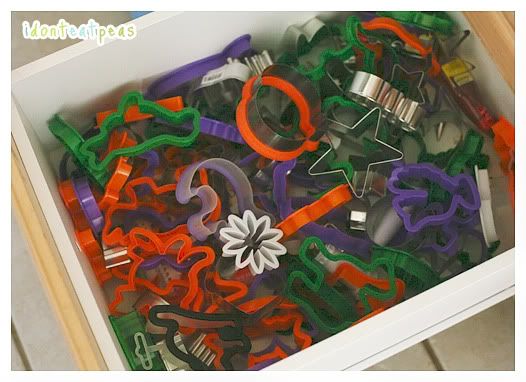 Of course you can use ANY shape.. but if you are making cake 'fireworks' with findant.. or even gumpaste.. you will want the shapes kind of small.. unless you want to use some super thick wire..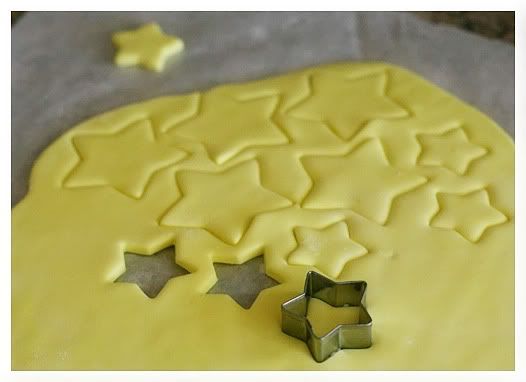 Peel off the leftovers and let your shapes dry for a day or two.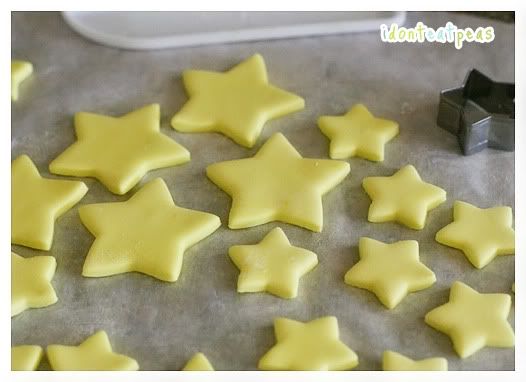 OK.. 2 days didn't go by.. but I wanted to show you how to do the wire part. I will dust my stars with lustre/pearl dust the day of the party.. make 'em nice and shiney. But today I am leaving them plain.
For the wire you will use some jewelry wire. You will want it pretty thick to hold your shapes up well. It comes in different colors too!
I got mine at Michael's.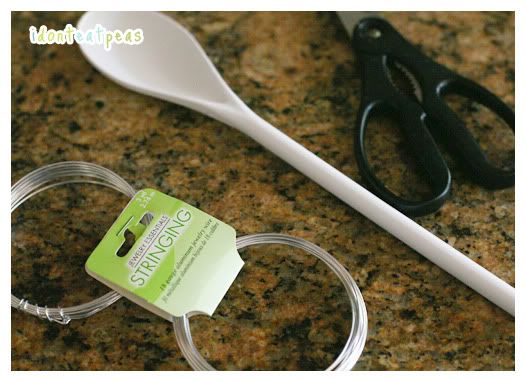 You will want something to wrap the wire around (or you can shape it by hand). I used a spoon. Then you will need something to cut.. kitchen scissors should be just fine.
I make a nice hot antibacterial bubble bath for my wire and let it soak for a few before using it.. dunno what freaky nasties have touched this wire before me!
Start wrapping!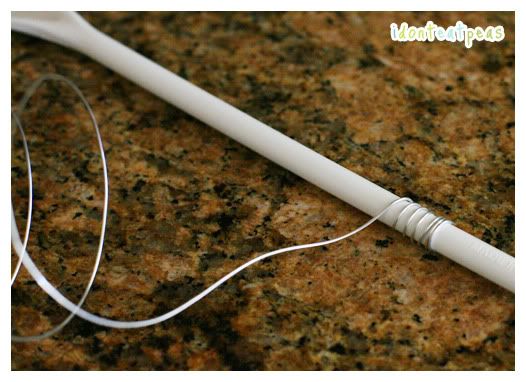 Pull it off and strech it out if you want.. Make sure you have a straight end to go into the fondant cutout.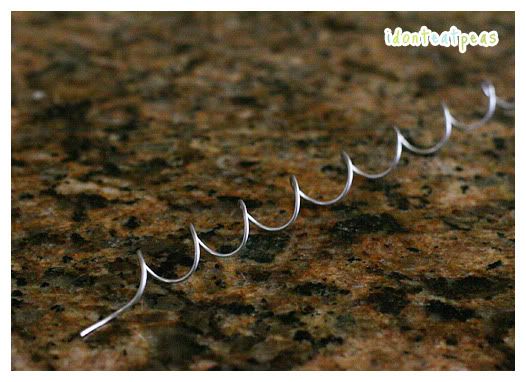 Voila! It will look MUCH cuter sticking out of the cake this weekend!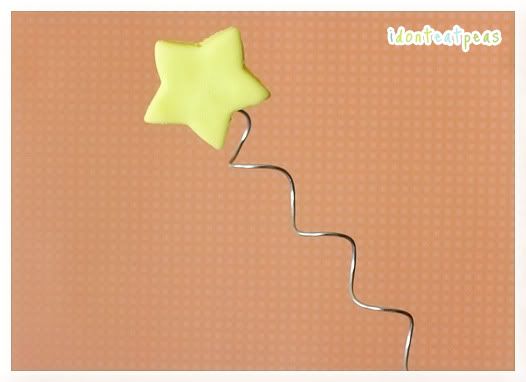 Thanks for coming by!! See ya soon!