This dang tent is a total jerk.. stay away from it lol.
Ryan and I were fighting with this thing last night.. I gave up because I had to feed the family and all.. psssh! Who needs to eat dinner when we have a super cool rocket tent to hang?
It finally got hung after beating on the ceiling trying to find a stud (Is that the right word? lol.. well..we were trying to find a 'hard spot' LMAO) We could NOT get this thing even for crap! It has 6 lines of nylon cord inside and it was like playing puppet with this thing. It's up.. and even..sorta. But now it needs to be lifted. I am so irritated with it I might just cut the bottom part off to even it up.. LOL!.. OK. Maybe not. But I doubt I will try to adjust it anytime soon.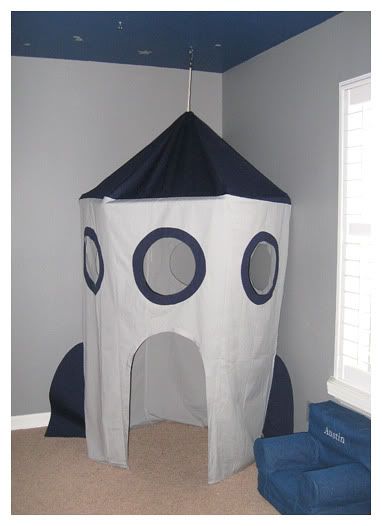 I can't wait to see his room done! We have been slowly working on it since I am so busy with sewing/Etsy orders/Tulah right now. It's coming together though! Austin is loving it too! :)